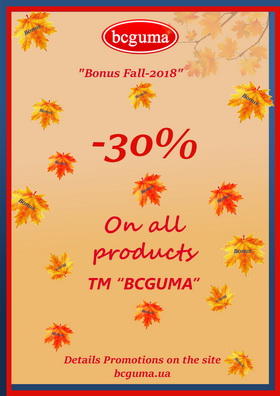 Promotion "Bonus Autumn-2018"
1) Date and place:
The action "Bonus Autumn 2018" is held from October 1 to December 31, 2018
The venue of the Promotion is the whole territory of Ukraine.
2) Participants:
All clients registered on the BCGUMA website take part in the promotion.
3) Bonuses accrual:
Bonuses are calculated at the rate of: for every 100 UAH. 10 bonuses are provided. The basis for the accrual of bonuses is the expenditure invoice, which is formed on the order from the client. The number of orders is not limited. The number of accrued or written off bonuses is sent to the client on his e-mail in text format, along with the expenditure invoice and invoice.
4) Use of bonuses:
Each client has the right to use bonuses immediately after receiving a message about the amount of their accrual, or leave until the next order. Bonuses must be used within 30 calendar days from the receipt of the expenditure invoice or invoice for the ordered products. For the total number of accrued bonuses, the client has the right to make an order for any products of TM "bcguma" at a discount of 30% of the purchase price with VAT.
For example: A client has been credited 5,000 bonuses. The client sends an order marked "Bonus" to any products of TM "bcguma" with a 30% discount in the amount of not more than 5000 UAH (equal to 5000 bonuses). After the formation of the expenditure invoice for this order bonuses are written off.
Additional conditions:
The products, at the time of the order, are not on the remainder of the manufacturer;
5) Getting the bonus item:
By receiving a bonus product, I mean the right to purchase it at a reduced price (30% of the purchase price with VAT). Payment is made on the basis of the provided invoice or expenditure invoice by transferring money to the account or to the cashier of LLC "BCGUMA". Bonus goods are shipped and delivered to the client within 7 working days from the moment of receiving the application and paying the Bonus price for it. Shipment and delivery is carried out by LLC "BCGUMA" or postal carriers.
6) Terms of use of the bonus product:
The bonus item must be sold by the customer who purchased it, at a price not lower than the minimum recommended producer price. If you violate this rule, all bonuses are canceled, and bonus products are not shipped.